Judy Chicago is having a moment. In the past few months, she's been featured in an Artsy podcast, profiled in an article for W Magazine, and hailed as "The Godmother" in a recent piece by New York Times Magazine. Here's an excerpt:
Once your eye is trained to see Chicago's imprint, it is everywhere, and unmistakable. It's in Petra Collins's menstruation-positive T-shirts; in the forthcoming installation on Sunset Boulevard in L.A. by Zoe Buckman of a huge uterus drawn in neon tubing crowned with boxing gloves; in the pink "pussy hats" that are worn in opposition to Trump's election. Images like these — symbolically overt, politically and anatomically in-your-face, forcing a public confrontation with sexism — are all descended from Chicago's imagination.
Another article that appeared in the New York Times a few days ago analyzed the tumultuous legacy of critical perspectives on Chicago's most iconic work, The Dinner Party:
[Chicago] said that despite the art media's early disparagement of her work, her way of overcoming the disappointment was to go into her studio and continue making art. She found a supportive community in Southern California's Ferus boys, notably the American artist and sculptor Billy Al Bengston, from whom she said she learned quite a bit. "Early on, he told me: 'Never read reviews. Just count the column inches and the number of pictures,' advice I heeded for many years. And given the vicissitudes of my career, it was really good advice."
Chicago's fiery feminist statement on the rebirth of humanity, Birth Tear / Tear, appeared at our sister gallery form & concept when Chicago visited last February. Watch our Q&A with her here, and inquire about the piece below.
Image: Photograph by Collier Schorr. Styled by Suzanne Koller. New York Times Magazine.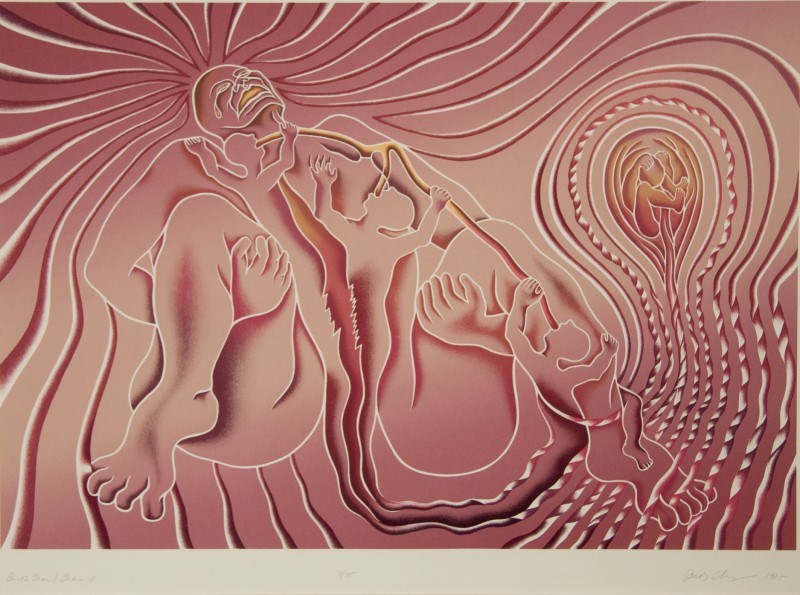 Judy Chicago
Birth Tear / Tear
serigraph
24 x 34 in
year: 1985
Click here to browse the complete Zane Bennett Contemporary collection.