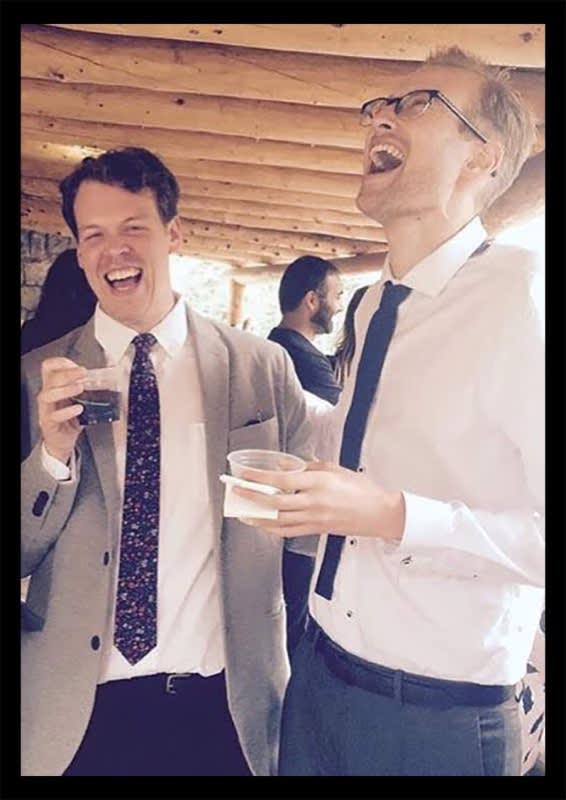 Zane Bennett Contemporary Art takes a look at what makes a dynamic duo in The Love of Prints, our new Artsy exhibition. As some couples in quarantine are getting more together-time than ever before, other partnered-up lovers are navigating distance, travel bans and Zoom dates amidst a global pandemic. As we continue to strengthen our partnerships and family bonds from home, we're reminded of the golden rules of couples therapy: have fun, listen, and find the positive.
Watch this space to hear from some of the couples on our staff and the art that reminds them of each other. First up is Zane Bennett Director Jordan Eddy and his partner, Kyle Farrell.
COUPLE: KYLE & JORDAN
TELL US A LITTLE BIT ABOUT EACH OF YOU.
Kyle manages Design Warehouse, and co-directs No Land art space. Jordan is the director of Zane Bennett and form & concept, and has also done a lot of freelance arts writing around Santa Fe. In 2014, we founded Strangers Collective with our friend Erikka James. Strangers is an alliance of emerging artists and writers that lead to the establishment of No Land.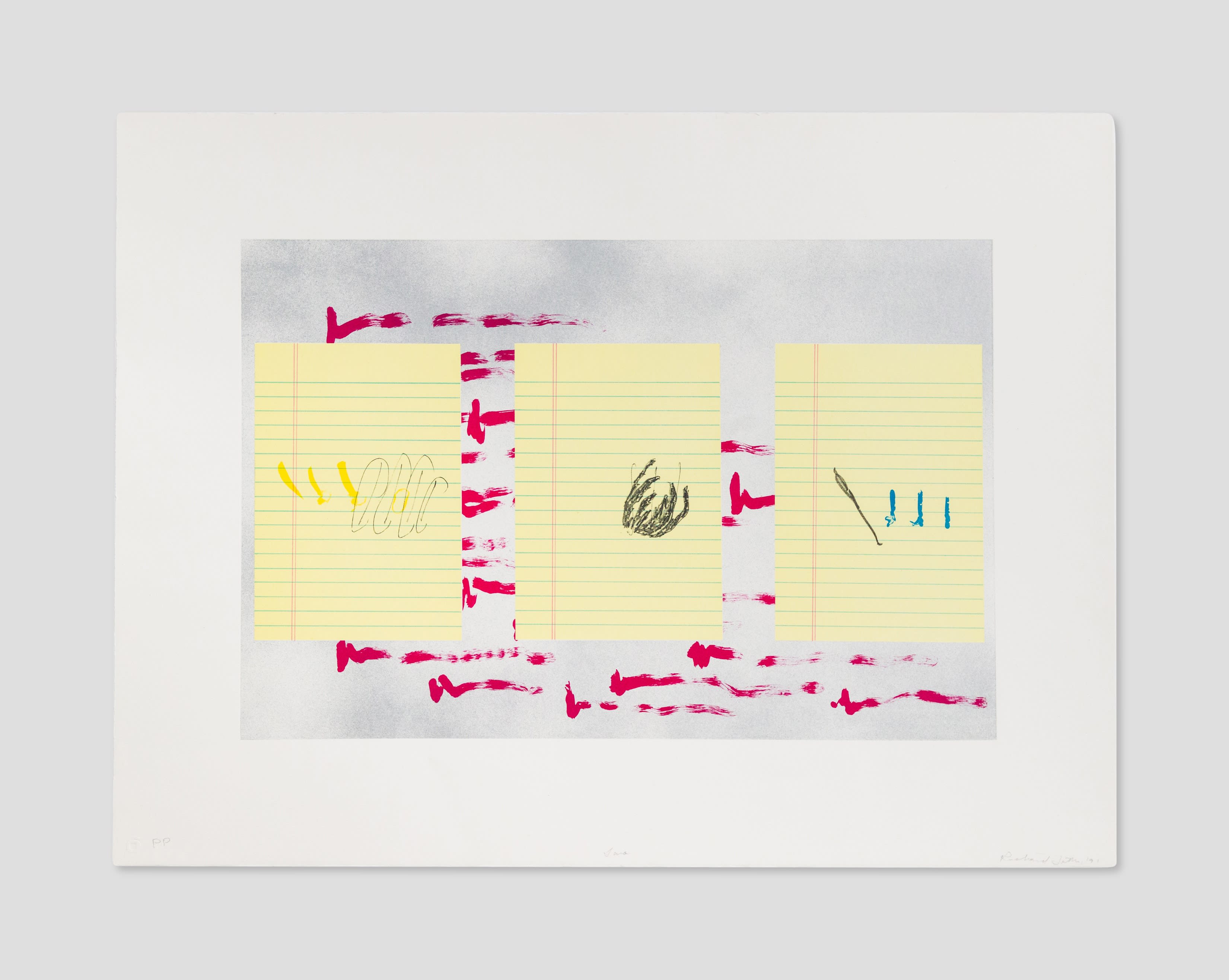 Richard Tuttle, A Sunny Day, color lithograph.
JORDAN'S PICK FOR KYLE: RICHARD TUTTLE'S A SUNNY DAY
Kyle primarily makes soft sculpture in his art practice, but he also has this brilliant and idiosyncratic talent for composing collage. His design professor at Rutgers once said of his collages, "You're definitely not a graphic designer, but I really like the way you compose by hand." That's how I feel about Richard Tuttle's prints: he's a sculptor who doesn't possess a designer's eye, but that's what makes his 2D works so weird and wonderful. A Sunny Day, Tuttle's color lithograph from 1991, depicts three scribbled-upon notebook pages atop waves of red smears. The piece hovers between print, painting and collage, and thematically it speaks to a variety of communicational crossfire and comedic confusion that I think would delight Kyle.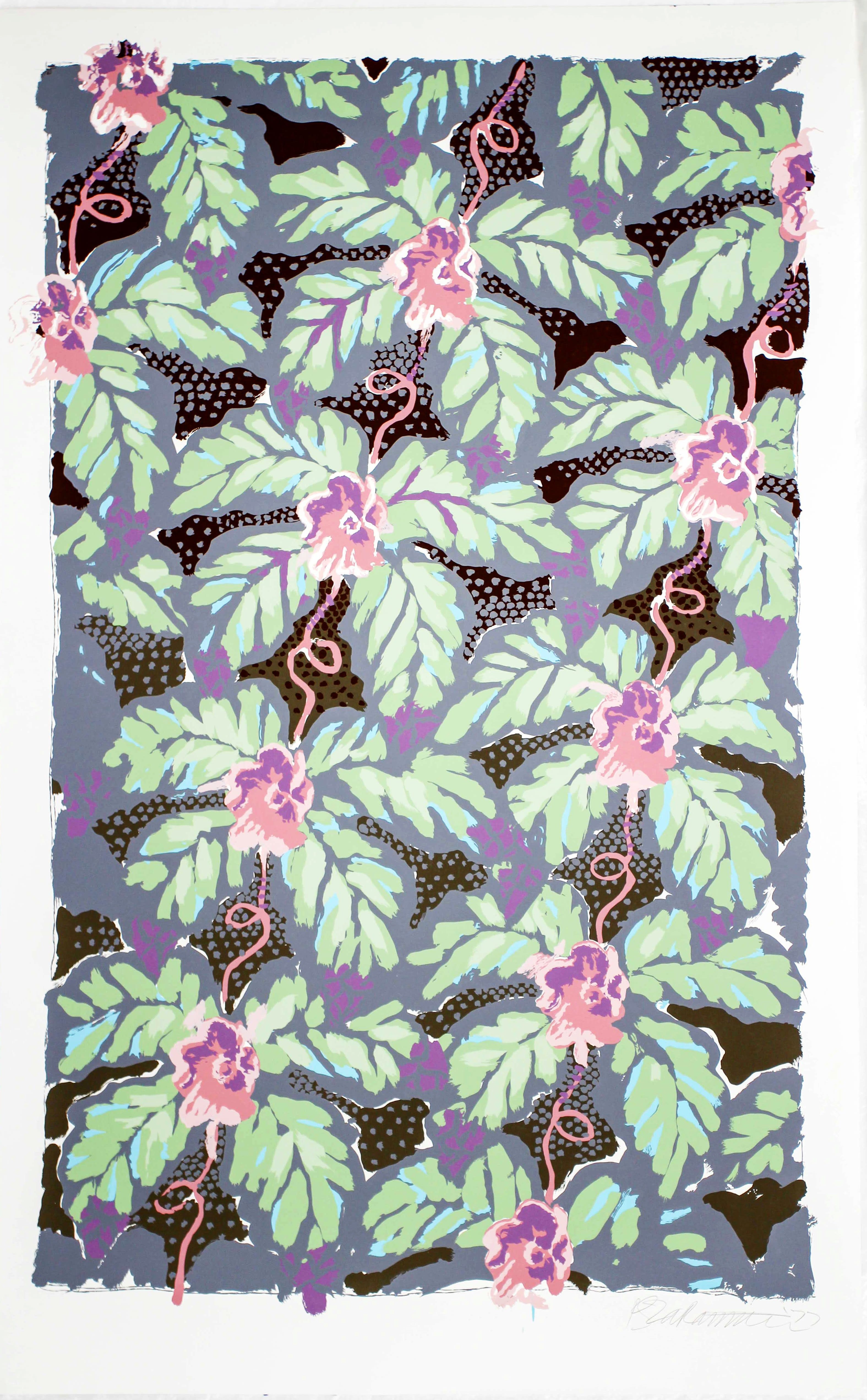 Robert Zakanitch, Untitled - Mostly Mozart '77, serigraph.
I picked this piece because it was bright. I always think of these bright, sunny things for Jordan. Also, it makes me think of different places that we've been together. I remember lying on the beach in Cape Cod and flipping through a magazine together, and we came upon this story on the Pattern and Decoration movement of the 1970's and 80's. Robert Zakanitch was one of the founders of that movement, so this piece would've fit perfectly into that story. The greens make me think of our Pacific Northwest adventure, and a trip to a wedding in Virginia. I always associate artworks with places, no matter what the medium or concept might be.
WHAT YEAR DID YOU MEET?
2012
HOW DID YOU MEET?
We met at a now-defunct DIY art space called Eggman & Walrus, which Kyle was helping to run. Jordan stopped by to attend an event that had been canceled, so we struck up a conversation instead. Our first date was a stroll up Canyon Road to a little cafe called The Dish & Spoon. That was over 7 years ago!
DO YOU HAVE SIMILAR TASTE IN ART?
Yes, but that's not to say that we always agree. After a gallery walk, we'll get into these elaborate debates that are about the artwork we saw but also the exhibition design. Because we both do a lot of curatorial work-Kyle runs an art space on the Plaza called No Land with our friend Alex Gill-the arrangement of a show can divide us even if the aesthetic doesn't. One thing about our shared taste in art is that there's a major element of community in what we collect and curate. Our home is like a little museum for a circle of incredible local artists.