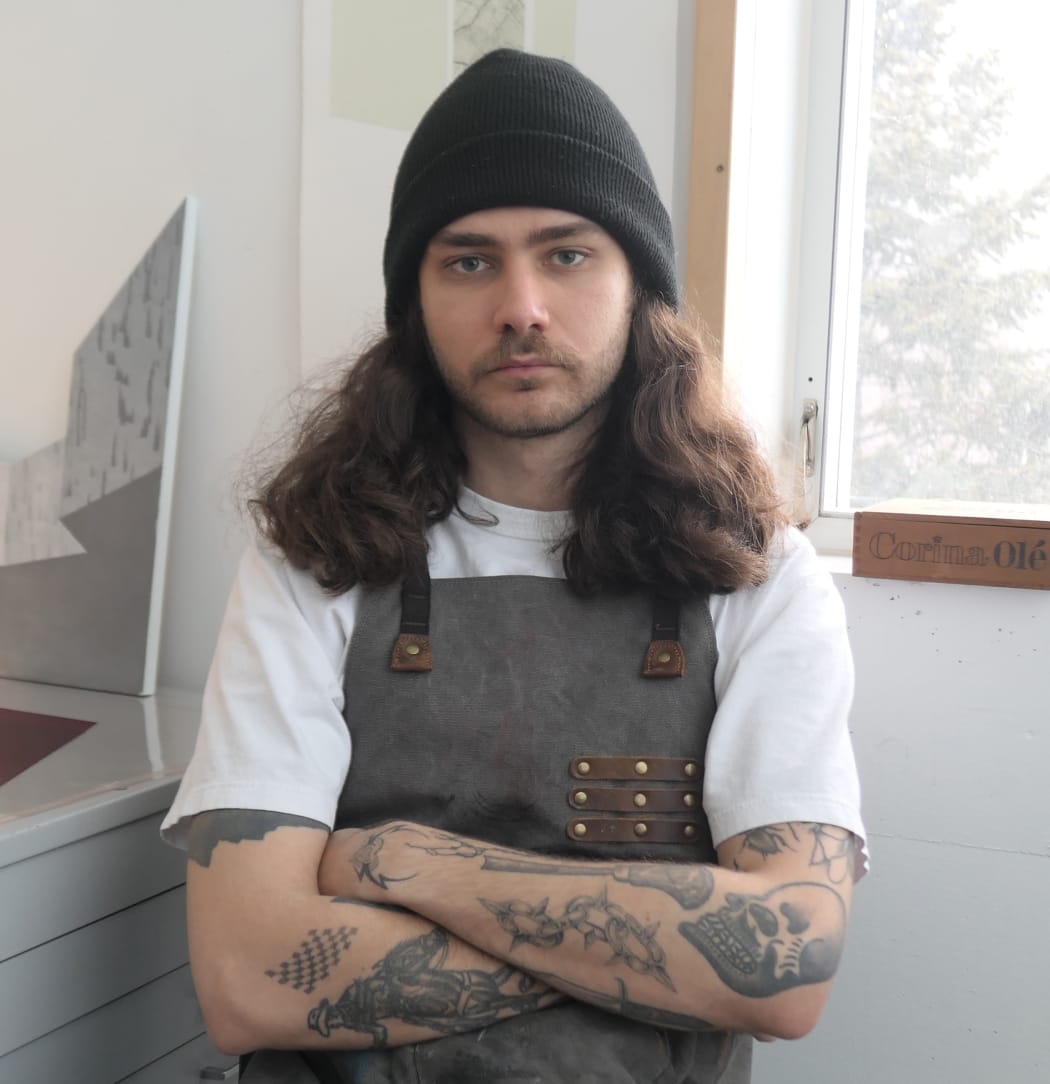 At first glance, Jon Greene's compositions feel fully resolved, with deliciously crisp edges and contained planes. They look as solid and considered as architectural structures, but move closer and façades become labyrinths. Driven by his passion for psychology and his belief in the inherent political nature of art, Greene troubles our perception to play at intersectionality.
Read our interview with the Tamarind Institute alum and University of Iowa MFA candidate below, and then explore our new digital exhibition of Greene's recent work. You can also learn more about Greene in the second part of this interview on Artsy.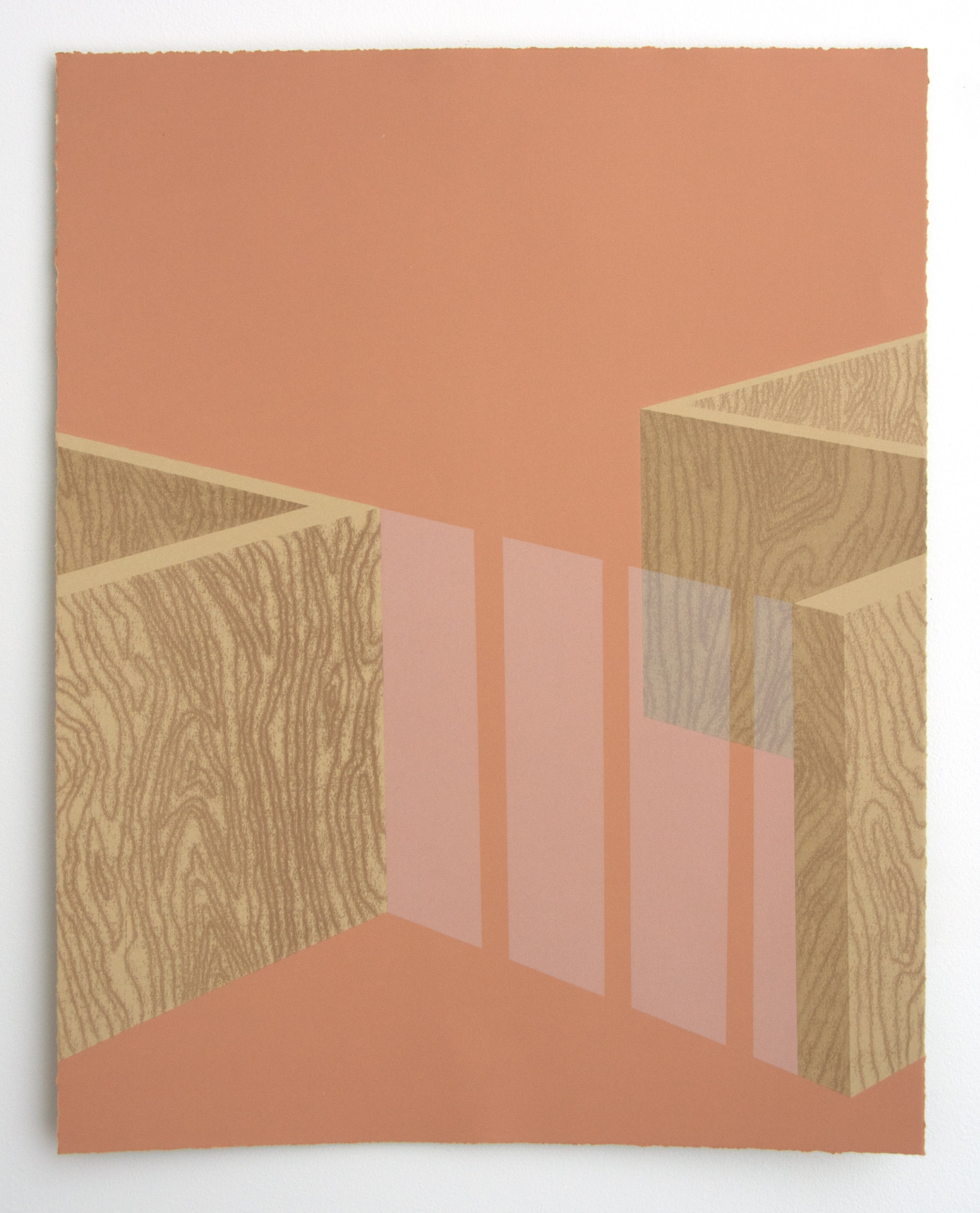 You're finishing up your MFA at the University of Iowa. What's one important thing you've learned in that process, and what's something you're looking forward to unlearning afterwards?
I am thrilled by the idea of finding my way as an artist outside of academia. However, I am also intimidated by the prospect of losing access to a state-of-the-art studio facility. The most crucial part of my graduate school experience has been my growth conceptually. I have only begun the lifelong process of understanding why I create my work and how to untangle the thoughts I want to express.
In graduate school, I have broken down my work's fundamental architectural, psychological, and environmental influences – this experience has been life-changing. When I came to graduate school, I had to unlearn some (but not all) of the rigid technical processes of Tamarind Institute. Unlearning was necessary to free my hand and mind to experiment, fail, and progress.
Now that I am leaving graduate school, I wish to rediscover myself and my artwork in a new environment. I am excited to fight to be an active and productive member of the art world.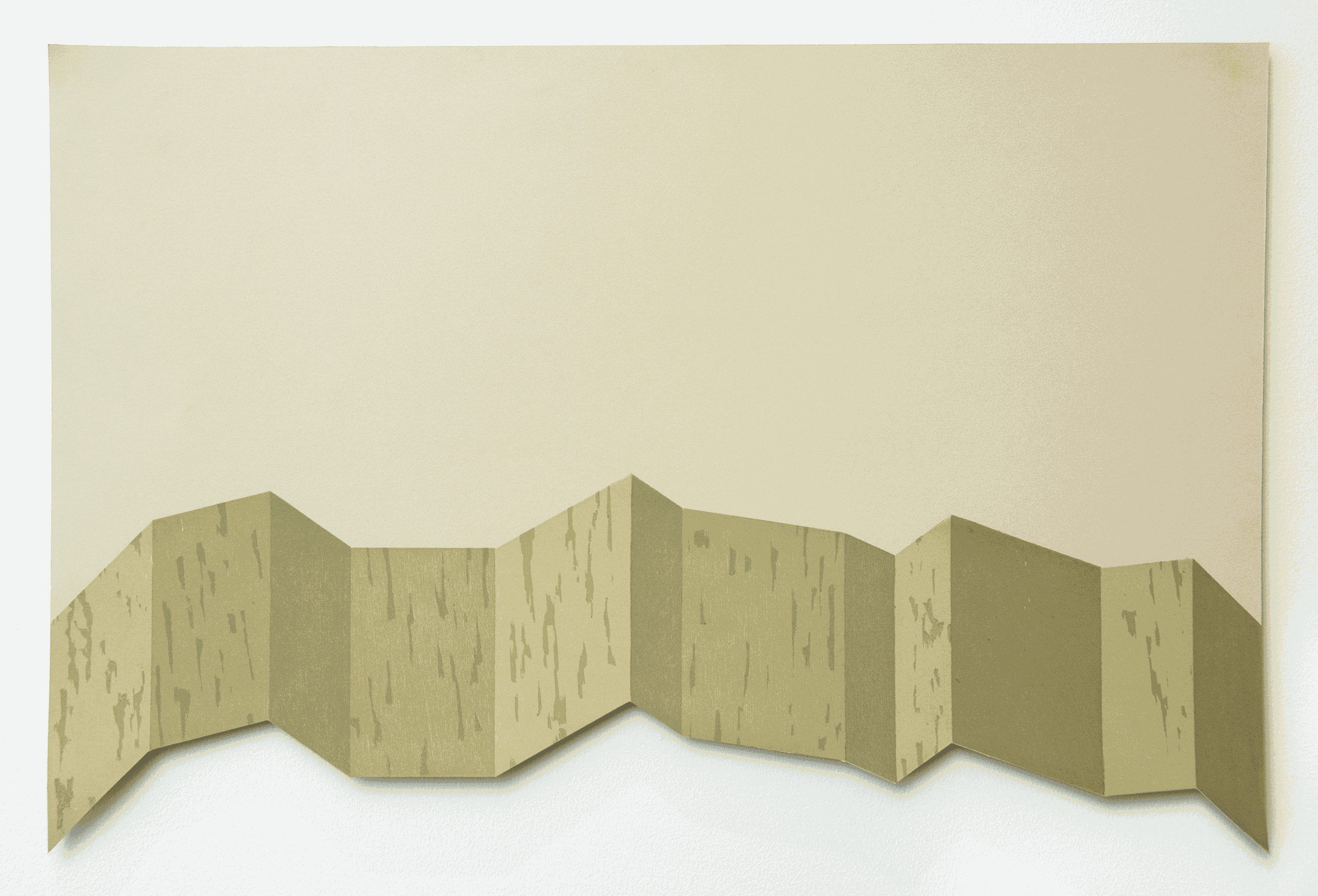 We originally linked up with you through the Tamarind Institute, a legendary lithography center at the University of New Mexico. You completed the printer training program at Tamarind in 2019, which we've heard is both grueling and epiphany-inducing. How would you describe your experience there?
I cherished my experience at Tamarind, but no, my year at Tamarind was not easy. I joined the Tamarind family immediately following my graduation from Skidmore College. My introduction to the art world outside of my schooling was through one of the most important printmaking institutions in the world. Tamarind gave me an enormous toolbox of techniques, but more importantly, it changed my outlook and respect for myself in art and many aspects of my life.
Tamarind was grueling, the days were long, and the projects were demanding. I failed many times, but I always recovered. I learned how to problem solve and think on my feet with efficiency and refinement. Now, I can tackle most technical pursuits with little to no fear, as I trust my abilities and hands. Tamarind taught me lithography, it invited me into the printmaking community, but it also gave me invaluable life skills and pushed me to complete every task I begin.
How do you think grad school would have been different for you if you had not attended Tamarind?
Tamarind inspired me to apply to graduate school. I was determined to transfer my new skills to my own conceptual practice. While I am confident that I would have attended graduate school at some point in my life, I would not have felt ready to tackle an MFA without the skills and motivation that I received at Tamarind.
I am proud of the work I have made at The University of Iowa. I produced prints at Tamarind's standards, but I experimented and developed my own art-making practice and my own techniques. Tamarind is part of my work. I am heavily inspired by the work that Master Printer, Valpuri Remling, and her printers made during my time at Tamarind and by the massive archive of past work. I would still be an artist without Tamarind, but my work will always be influenced by my year in Albuquerque.
In your artist statement, you talk about collaborating with "autonomous materials" in your printing process. What does that mean, and what has it taught you about relinquishing or retaking control?
Lithography is a largely organic process; one must develop a deep understanding and control of natural substances. The "autonomous materials" I refer to are materials in lithography and greater printmaking. In lithographs, I often pour liquids over portions of a composition. I control the flow of these liquids by directing them and by protecting areas of an image so that fragments remain unaffected. In printing woodblocks, I aggressively peel away plywood sections to reveal a chatter (a natural wood texture).
While I cannot completely control this process, I understand how the wood breaks, cracks, and bends.
In graduate school, I have spent a significant amount of time attempting to understand my relationship with the act of control. I spent over a decade of my childhood in Freudian psychoanalysis, an experience that will forever affect how I see the world and mental and physical barriers in my life. For me, printmaking is an outlet. I can control environments and build relationships between objects. I can also emphasize how architecture alters our perceptions both internally and externally.
Read part 2 of this interview on Artsy, including Jon's thoughts on the inherent political nature of art and his desire to inspire "simultaneous interpretations" of his work. Greene's recent work currently appears in a special digital exhibition on our website.