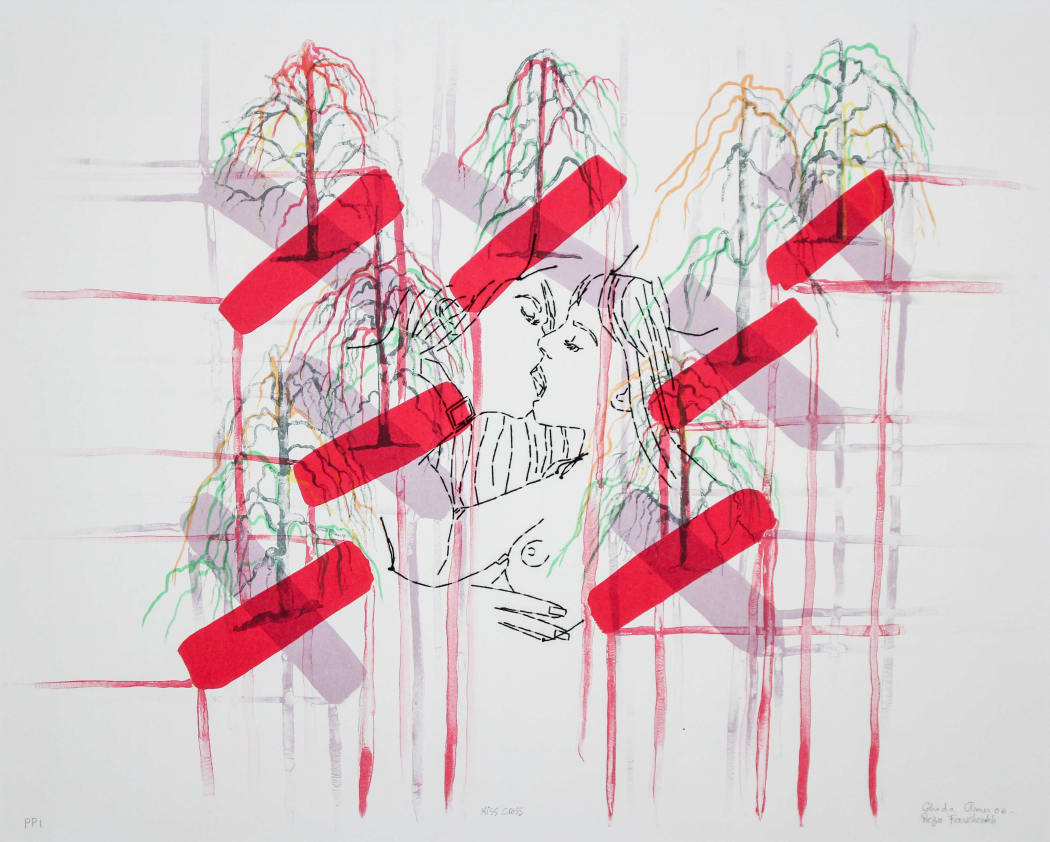 Before joining the Zane Bennett staff, Kylee Aragon served as the interim gallery director of Albuquerque's nonprofit lithography center Tamarind Institute. To curate Stitched Ink, Aragon studied the Zane Bennett collection, selecting works that reflected the dynamism of textiles.
KA: I'm fascinated by the relationship between printmakers and artists. I've seen how they work together and push one another. They're always experimenting, I think because prints aren't three-dimensional. They're trying to create that feeling on a flat surface. You see it so much in Louise Nevelson's work. She's draping lace over prints and then printing on top of the it. She's trying to invoke this sense of fabric. Because it's just paper. We all know what paper feels and looks like. But to make paper look like something else is such a difficult thing to do. Printmaking is in itself so difficult. To be problem-solving and trying to get that result is so fascinating.
KM: Yes. It's a science, but it's an art. Plus, there's this collaborative element. There isn't a singular author, it's all these different brains coming together and working in different ways.
KA: June Wayne, the mother of lithography, says you can't have one without the other. You have to have them both: the printmaker and the printer. And you see so much of that in Kiss Cross. Those two artists coming together to collaborate. It isn't a whole piece without them both.
KM: There's a dynamism to fiber that these printmakers are bringing to their prints. It has different volumes, it flows. Can you take that and translate that into a two dimensional space?

KA: It's something Christo is so brilliant at conveying. He could have so easily done models, and that could have been his main way of making these. But he chose print. And I'm really interested in why. It seems like such a strange place to go.
It reminds me of Lesley Dill. The way she brings in fabric is really interesting. It's a delicate and really poetic way of doing it. They're all written words and she brings in her literature major into everything she's doing. And all of her quotes are just so lovely. What she's pulling from is so delicate, like the materials. She's not using thick fabric. It's always a little transparent and has an ephemeral aspect to it. It looks like it could almost break.
KM: I think it's great you've taken the time to really look at this collection that's been building for 10 years. These prints didn't all arrive here at the same time, they're from different parts of Zane Bennett's history. You really were able to find this thread through the collection.
KA: I found that really important. Wrapped Flower is from 65, and then we have this Christo from 2015. Just seeing the way the work has transformed is kind of like telling the story of Zane Bennett.
I don't like to see things from just one era, especially when dealing with a collection like this. It's art history. They're all referencing each other and have seen each other's works. I'm really pleased and I had such a cool collection to work with.
KM: What do you hope that viewers come away with from seeing this exhibition?
KA: I want people to be excited about works on paper. There's always a conversation about prints. "Why prints? Why not a painting? I want something original." But these are original works. And seeing the craft that goes into them – they're not easy to make. And seeing those hand sewn elements or really delicate bits in a print just shows the time. Prints are having a revival. The conversation is shifting. It's fine art, it's not just a piece of paper.