"Our job is to see the holes, patch those up and make things better."

Early this year, married couple Steven Campbell and Christina Ziegler Campbell embarked on a mission to transform an independent print publisher into a community hub that serves underrepresented artists. They're both veteran employees of Landfall Press, a 50-year-old print shop that was founded by Jack Lemon in Chicago and moved to Santa Fe in 2004. Landfall is a legendary operation with editioned prints by famous artists such as Christo, Vito Acconci, Claes Oldenburg, Sol LeWitt and Judy Chicago under its belt.
When Jack handed the reins to Steve and Chris this January, they shifted their focus from big names to include up-and-coming artists from communities that have often been ignored by the contemporary art establishment. Under the new name Black Rock Editions, they launched a series of community programs and engaged a fresh slate of remarkable creatives. Then the COVID-19 pandemic hit.
Steve and Chris connected with Zane Bennett over video chat for a conversation about their new endeavor. Black Rock Editions is the first featured business in our Partners in Art series, designed to support arts organizations in the midst of this crisis. As part of the program, Black Rock is offering an editioned print by Diego Romero and a series of collages by Steve Campbell through Zane Bennett's platforms. All proceeds go to Black Rock Editions, so please consider acquiring a piece if you're able.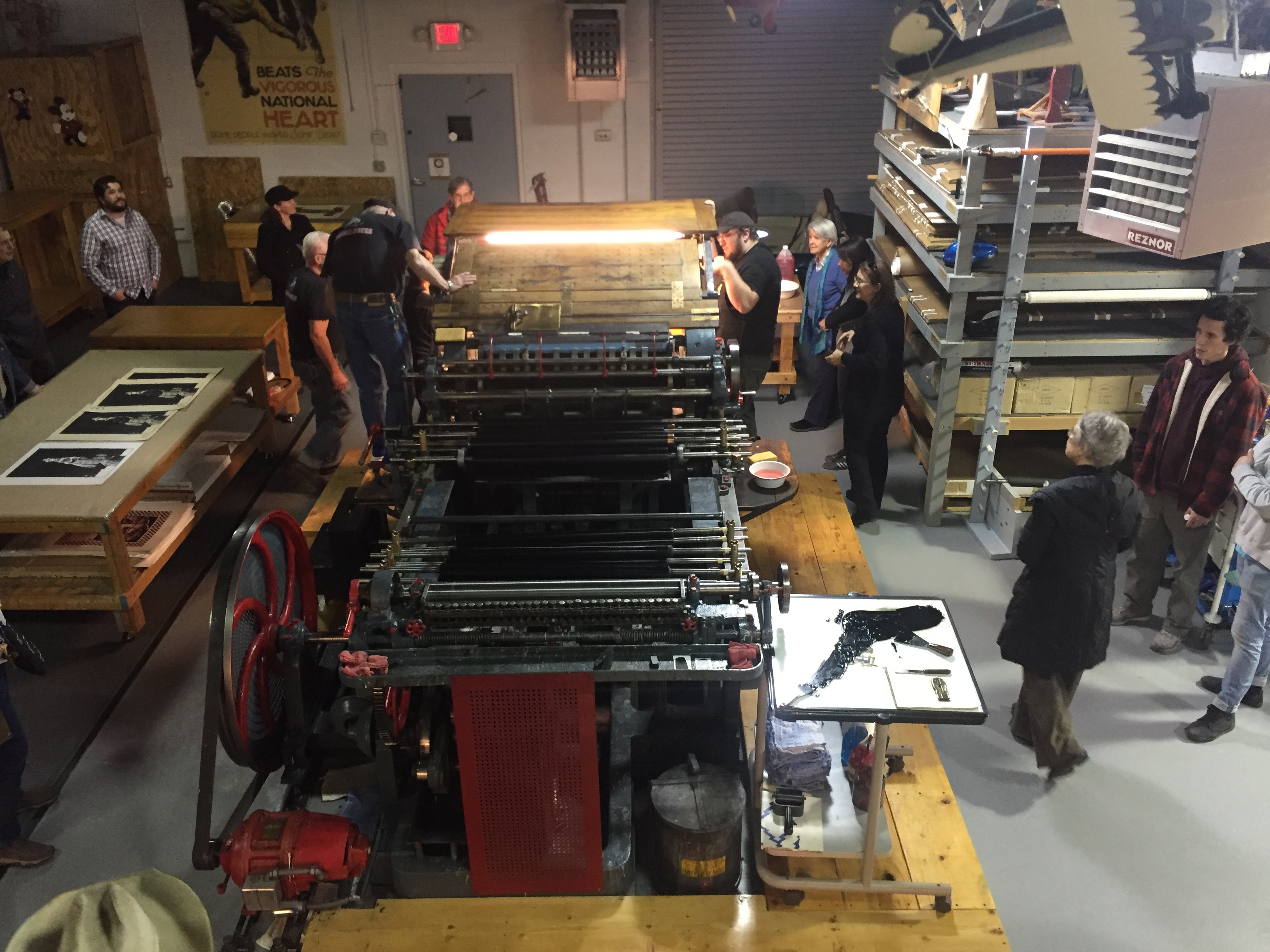 Setting the scene: a sweeping view of the Black Rock Editions shop.
When and how did Steve start working at Landfall Press?


Steve: I've been there 32 years. How did it happen? I was thinking that if I couldn't make it as an artist, I could always be a printer. I walked into Landfall one day—this was when the shop was in Chicago, of course. Back then, [Landfall Press founder] Jack Lemon was a lot harder than he is now. So I walk in and show my portfolio to Jack, and he's showing no interest at all. It was like a bad comedy set, where you know you don't have the audience at all. I stuttered and started to shut my portfolio. That's when Jack said, "I suppose you've heard that I'm a real asshole." I said, "Yes." He hired me right on the spot.
And how has your job at Landfall evolved since then?


Steve: At first I was a press assistant. All I did was grind stones and change records all day. They were big stones, too. That was it. Jack said that one of the prerequisites for an employee was that they have big arms and a small head, so I fit the bill. The thing with Landfall is, as you prove yourself more capable, you go from doing the etchings, to doing the lithos, to doing sales, to building everything in the shop.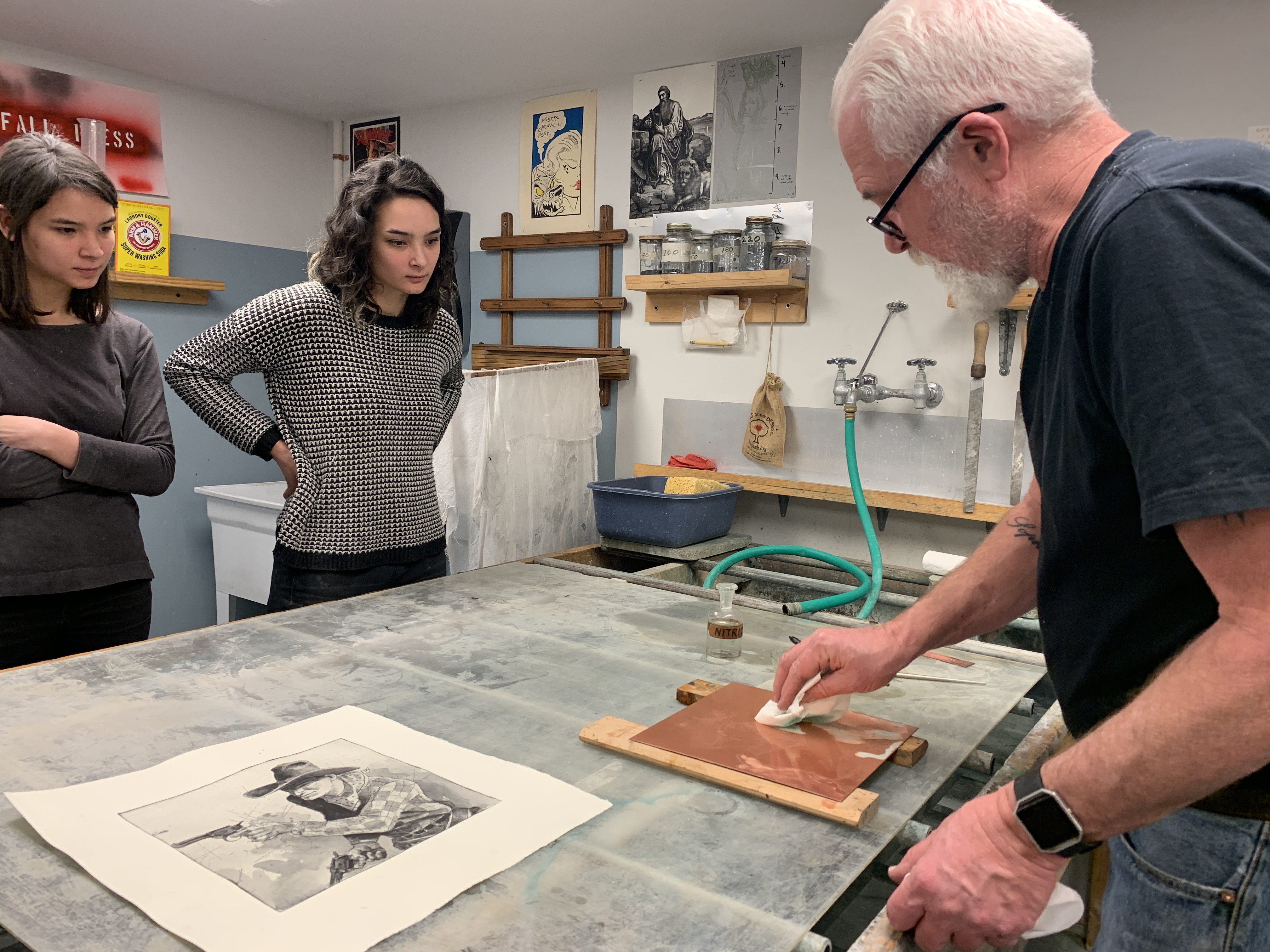 Steve Campbell gives a print demonstration at Black Rock Editions.
Did you plan to stick around for over three decades?
Steve: So many other people that worked there used it as a stepping stone. The reason I liked working in the shop so much was that from the moment you walked in, you had to figure out what you were doing and how to do it. It's always kept me engaged.
How would you describe the relationship between artist and printer?
Steve: One of the things in the shop is that you are to facilitate the print, and not offer any of your aesthetic input unless asked. Generally, it was hands-off. You helped the artist and kept your head down. But eventually the artist starts opening up to you.
Chris: I think sometimes when people first come to the shop, it's an intimidating experience. Oftentimes they're unfamiliar with the medium and process, and they've heard these stories of the shop. People outside of this micro-community have no idea what all of this equipment does. Then they come back a second time, and they're much more open and comfortable.
A major element of the print shop's mission is community engagement .
What's it like to have a front seat to the creative process of these legendary artists?
Steve: You read critiques of the work, and writers go on and on and on about the concept and what this piece means. There are all of these lofty things written down, but it's kind of satisfying to have somebody like Christo or Oldenburg finish a piece and look at you and say, "This is kind of cool." They didn't necessarily have any of these big explanations.
Chris, how did you end up working at Landfall?
Chris: Essentially through Steve. I started working with Jack in 2003, just coming in and helping out with administrative tasks. When Jack started talking about moving the studio from Chicago to New Mexico in 2004, he asked if I'd be interested in working for the shop after the move. It seemed like a natural progression.
Santa Fe artist Dan Namingha produces a print at Black Rock Editions.
What was the biggest difference between running a shop in Chicago and doing it in New Mexico?
Chris: The logistics changed, as far as sourcing materials. That kind of stuff was much tougher. In Chicago, you could just go down the street a ways, or go somewhere else if they didn't have anything. But we were never an open shop, so it's not like we missed any walk-in traffic moving from a city to a smaller town. Our first shop here was on San Mateo, right next to Chocolate Maven. Then we moved to the 5,000-square-foot shop where we are now on Siler around 2010.
How did the conversation start about transitioning the shop from Landfall to Black Rock?
Steve: Jack had always given off signals of backing away from the shop eventually. It was one of those things where Jack would say, "Someday, this will all be yours!" Chris and I talked about what we would do. I think the old model of publication and sales has shifted. The economy is different, and I think after 16 years of being here, we are able to serve our community in other ways. You start looking around and you see a need. After discussion, we said that we'd really like to change the shop's mission to something more community-oriented with an emphasis on underrepresented artists.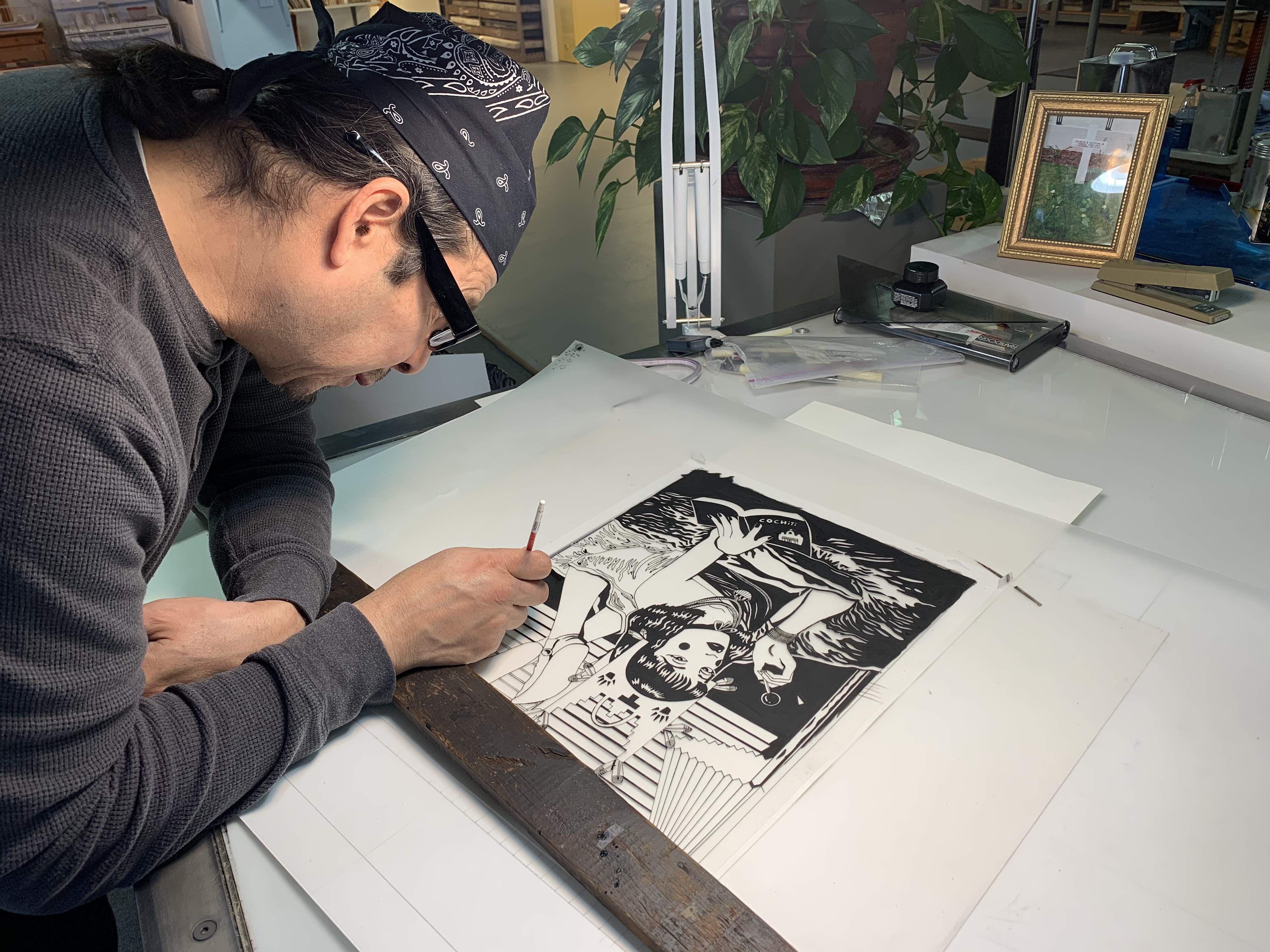 Diego Romero works on a lithograph at Black Rock Editions.
What did Jack think of your concept?
Steve: Jack said, "That's a great idea!" So we started moving in that direction.
Chris: I think [artist] Diego Romero had a lot to do with that too. It's not like he would just make a print and go away. He'd say, "Meet this artist, come out to the Pueblo." And you start connecting with people. Initially, we were thinking of something along the lines of Crow's Shadow, with a focus on Native American artists. But that seemed much too narrow, and we needed to broaden our scope to be more inclusive.
What do Landfall and Black Rock have in common?
Chris: I think Black Rock is an extension of the mission that Jack started with Landfall. It's about the artwork, all in all. Sure, it would be great to be rolling in the dough, but that's never the first thing we think about. It always comes down to the artist, it always comes down to the art. It's not just printing and publishing, it's printing and publishing for something bigger than what we are, and what the shop is.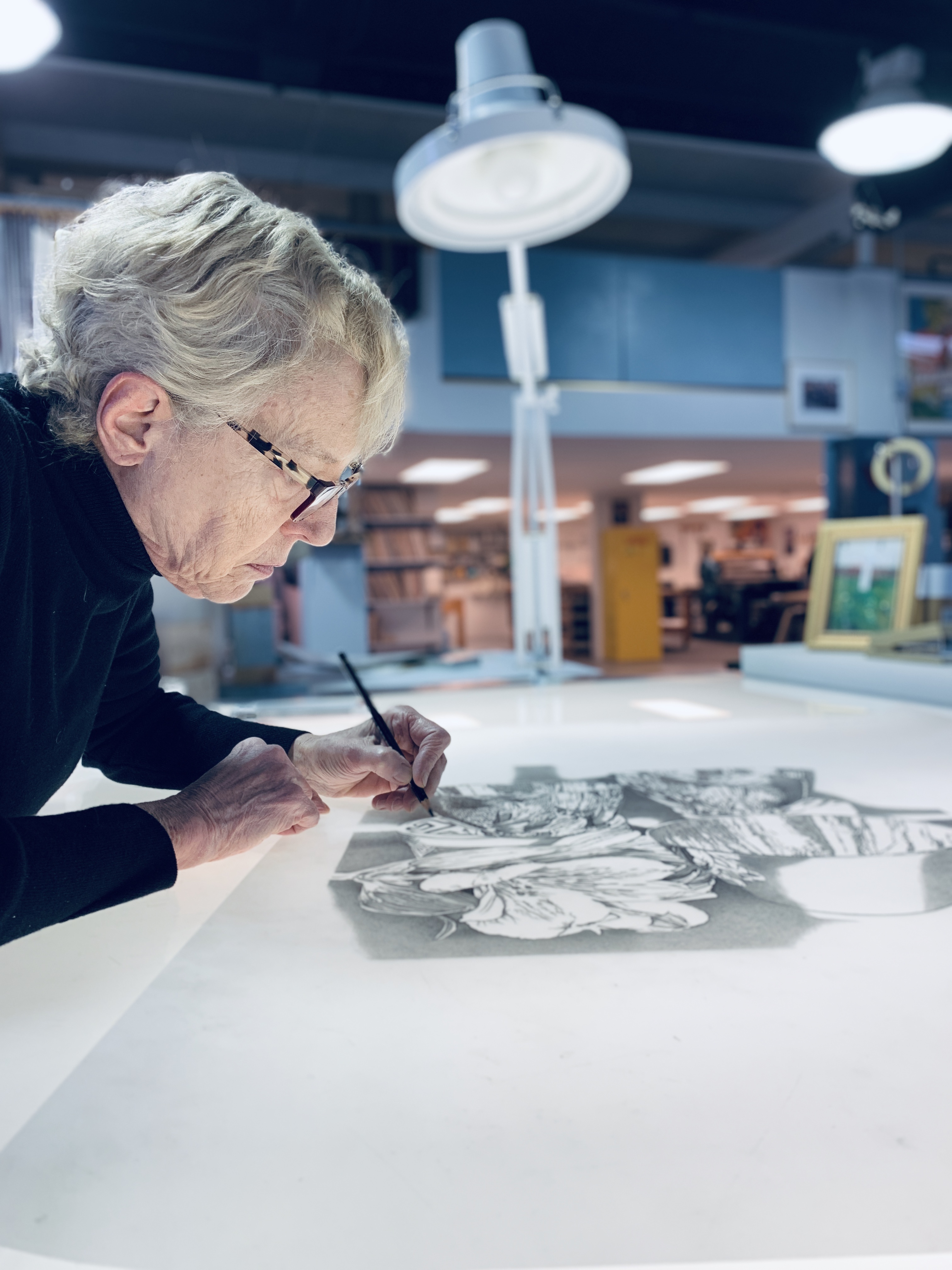 Jeanette Pasin Sloan stays focused at Black Rock Editions.
It sounds like all of the pieces really fell into place for Black Rock's launch!
Chris: We had the support of Jack, and the full support of Landfall press and its history. We had Landfall's equipment, generously leased to us by Jack. We were in the perfect position to be able to work with artists that we loved, and expose them to a wider audience with our connections to museums and curators. So we officially started Black Rock Editions on January 1, 2020.
Steve: Our intention was to start getting the community in, so I thought a print clinic would be fun. On Thursday nights we would just do something. The first one we had was during that blizzard in mid-January. It was kind of an Abbott and Costello routine with me and Josh [Orsburn], where we'd trade off showing a skill. We'd ramble on, and nobody's eyes would glaze over. We had eight people show up, and then it just gathered momentum right up until we couldn't have it anymore.
Chris: We had 8 or 9 print clinics, and 12 to 15 people were coming by the end of the series. The nice thing is the people ran the gamut from printmakers, to artists who don't work in the medium at all, to community members anywhere from 20-some years old to 70. It was super diverse, and the interest level didn't fade away.
Steve: Then the pandemic hit.
How have things changed in the midst of the Covid-19 pandemic?
Chris: We stopped working on March 23rd. Things were starting to shut down earlier, but the government finally said we couldn't be in our space.
Steve: We've got all these projects just kind of suspended at the moment. We're having a photogravure print made for Cara Romero right now, but that's about the only thing we can do. We finished a print with Diego Romero, but there are other projects in the works by Dan Namingha, Fatima Ronquillo and Jeanette Paisin Sloan.
Chris: It's an interesting development for sales as well, in terms of explaining to people the validity of prints—why they're worth what they're worth, why they're art in themselves and not just comparing them to paintings. I always thought it was a good way for artists to make their work a little more accessible. It is a perfect position to start placing these artists, and I think now is the time—if we can get back to some semblance of normalcy, and get back into the shop.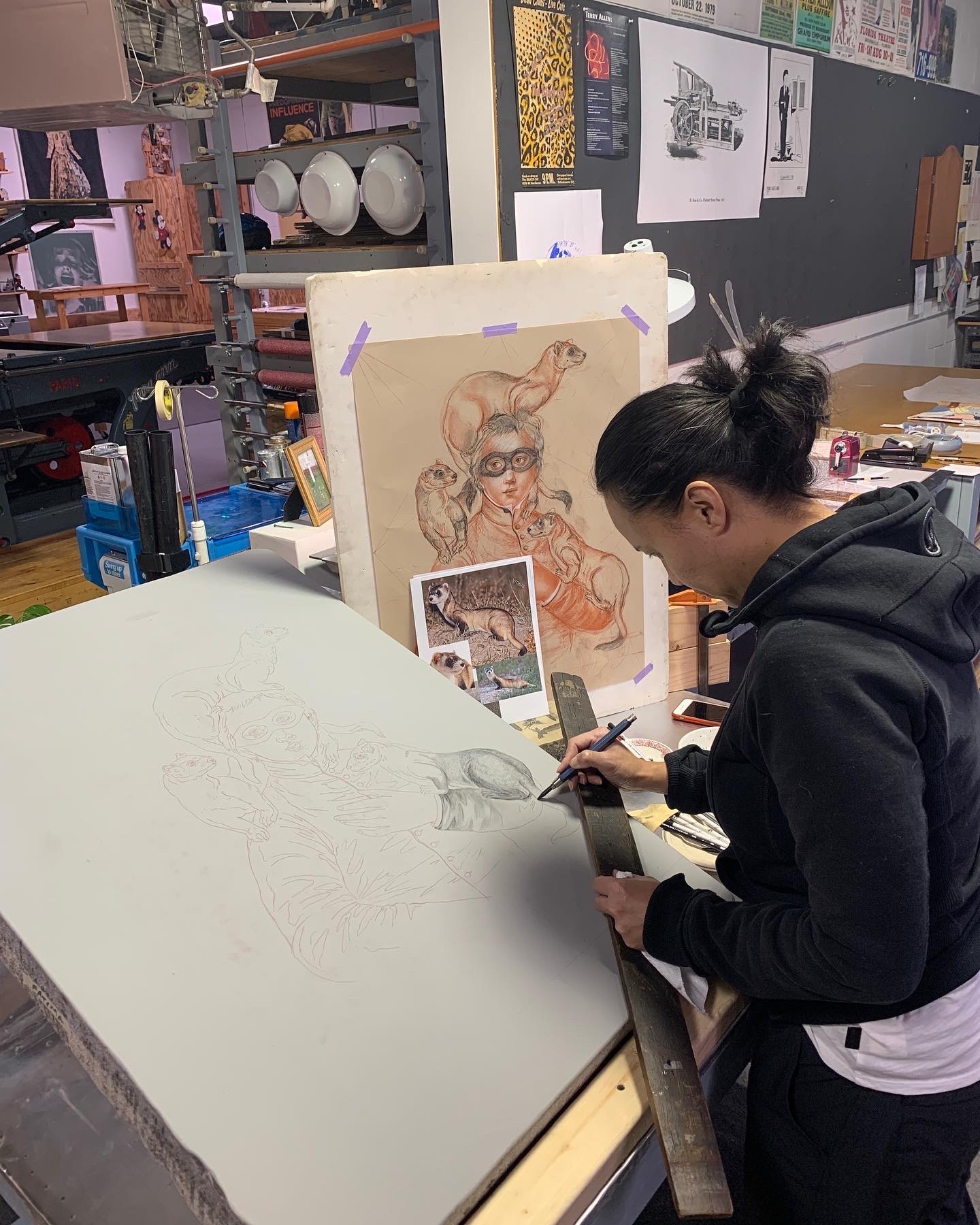 Fatima Ronquillo hits the lithography stone at Black Rock Editions.
In the meantime, how can people engage with Black Rock?
Chris: There's no lack of projects in the works. I think we'll be looking for artists locally for the rest of the year of course, because nobody's going to want to get on an airplane. While the shop is closed, we're sending things out through Constant Contact, and we're going to be uploading these little video tutorials. We're posting a lot on Instagram, and working on a website for Black Rock.
Steve: We were planning on launching a series of weekend workshops this summer, though that might have to happen later. Santa Fe Art Institute is our fiscal sponsor, so now we have a nonprofit arm where people can donate.
What's your vision for the future of your project?
Chris: I think our job is to make sure that once this is over, we reexamine what was and what wasn't working. Since we have become a community-oriented program, there will be changes as far as social distancing guidelines and of course, regaining the momentum we had at the beginning of the year. Our job is to see the holes, patch those up and make things better. As horrible as this situation is at the moment, it has been an eye-opener to future possibilities. It would be really great to put into practice all of these things we're talking about. We're so new, and this is something that we've never ventured into, as far as community-oriented learning. We still have our training wheels on. We're still trying to figure this out and we're completely open to ideas.
Explore Black Rock Edition's artworks in Partners in Art.
Diego Romero signs his lithograph Pueb Fiction at Black Rock Editions.