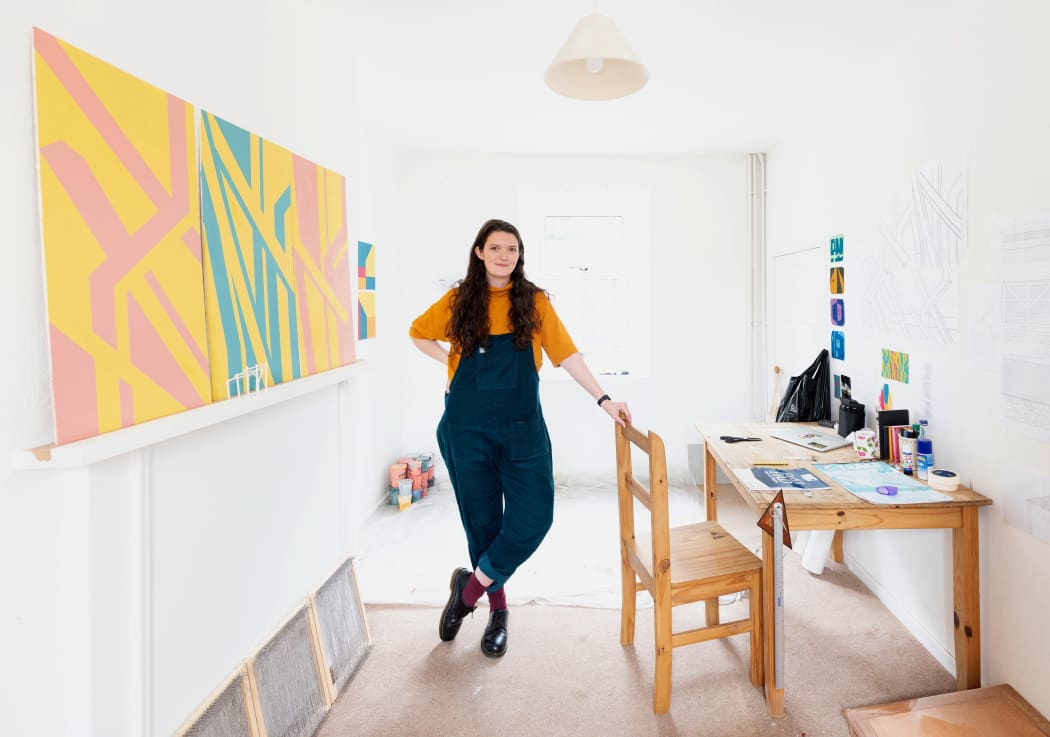 Award-winning Women in Print artist Rhona Jack connects an ongoing interest in the clothing and fabric industries with a sculptural approach to printmaking to create bold geometric compositions that are often several months in the making. Read on for Print Curator Kylee Aragon Wallis's interview with the 27-year-old Scottish artist on her architectural inspiration, her systematic process, and when we can see her in the print studio again.
Your work is so well crafted, it feels like you have been making artwork your entire life. have you always made art?


Yeah, I really have always made art. From a young age I knew I wanted to be an artist. Growing up, my parents always took me to art galleries and my mom taught me to sew when I was very young. I would make stuff for my parent's company, and I would get paid a pound for every button I sewed. Drawing came first, then I got really into textiles. I would create a lot of embroidery. I love process-heavy stuff, actually making things with my hands. When I was in secondary school I considered being an engineer, since I've always enjoyed math. I was also well aware that there weren't enough female engineers and I thought it would be interesting to fill that void. After secondary school I took some time off, finally decided not to study math and traveled around a bit. After my travels I made the decision to study art. Taking that time off made me so much more ready to come back and learn.
tell me more about your experience at duncan of jordanstone college of art and design.


At Dundee we have a foundation year—all the art and design subjects are together. And in the second semester we decide on the route we would like to take. I decided on contemporary art practices, which crossed various disciplines. I took painting, sculpture and printmaking. I felt free to explore and try different things. I truly felt so inspired by the art college and the city of Dundee. The art scene in Dundee is so vibrant and inclusive, I always feel really supported.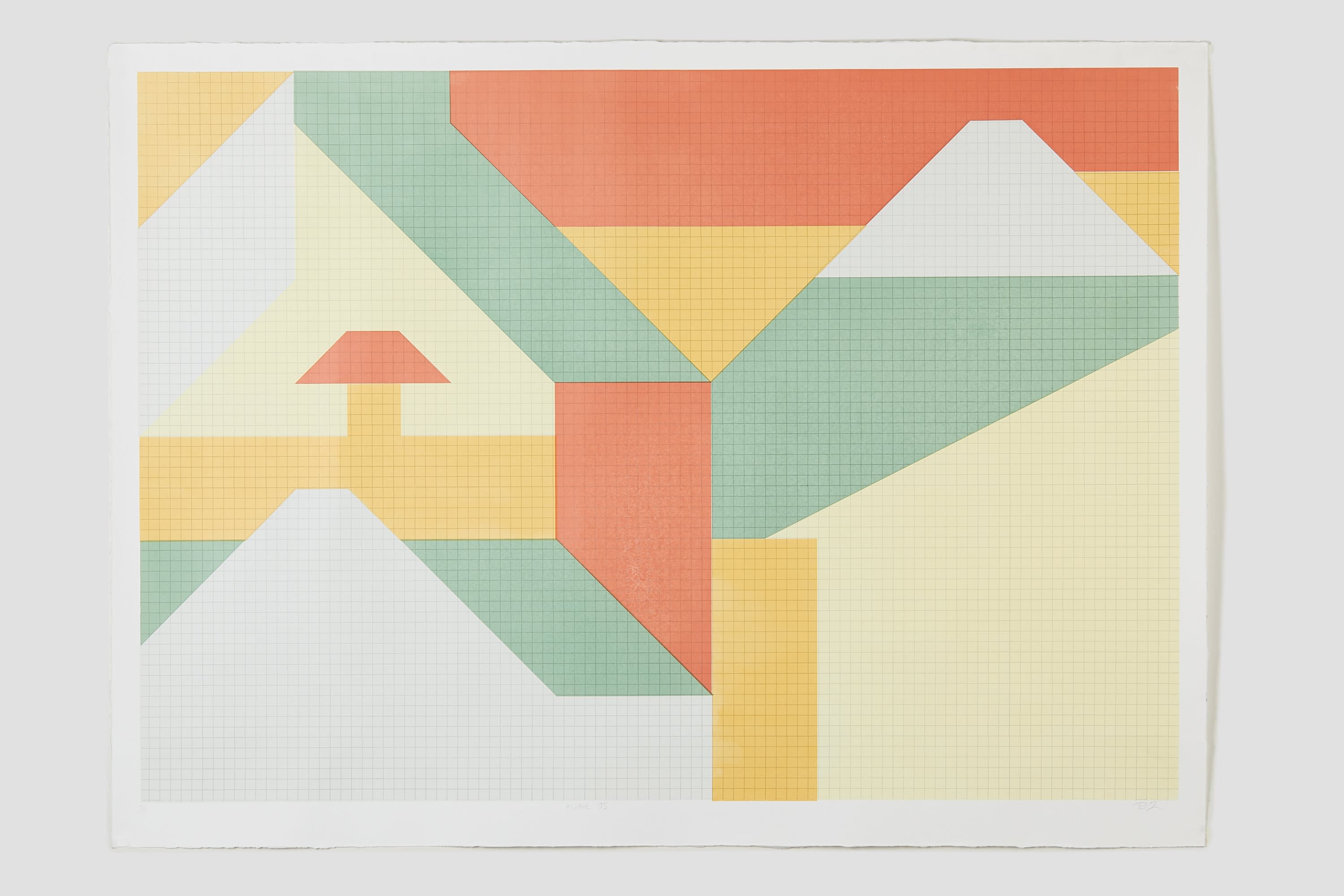 Rhona Jack, Metre 05, 2017, Color serigraph.
does your work shift more with your environment?


People and places absolutely influence my work. The print Metre 05 that is in the Women in Print exhibition is part of a larger series inspired by buildings in Dundee. I pass these buildings frequently since they are quite close to both my studio and apartment. I find the empty industrial buildings around Dundee captivating. I feel inspired not only by the architecture but also the work that was done in these industrial factories and the people who worked in them.
You work in so many different and equally entrancing mediums. Why did you select screen printing as your medium of choice for the Metre Series?


I love process. My work is always slow and systematic, and print embodies this. I am primarily a fiber artist and sculptor and I use print as a means of developing ideas, figuring out patterns and color combinations. The act of pushing ink through a silkscreen creates flat areas of pure color in a way that no other medium can. The Metre Series forms a weaving pattern from sketches of ex-industrial building from my home city Dundee.
Tell me a little bit about your practice. Do you work off of sketches?
Absolutely. I always need a good jumping-off point. I enjoy making line drawings, not thinking too much about precision and just capturing the moment.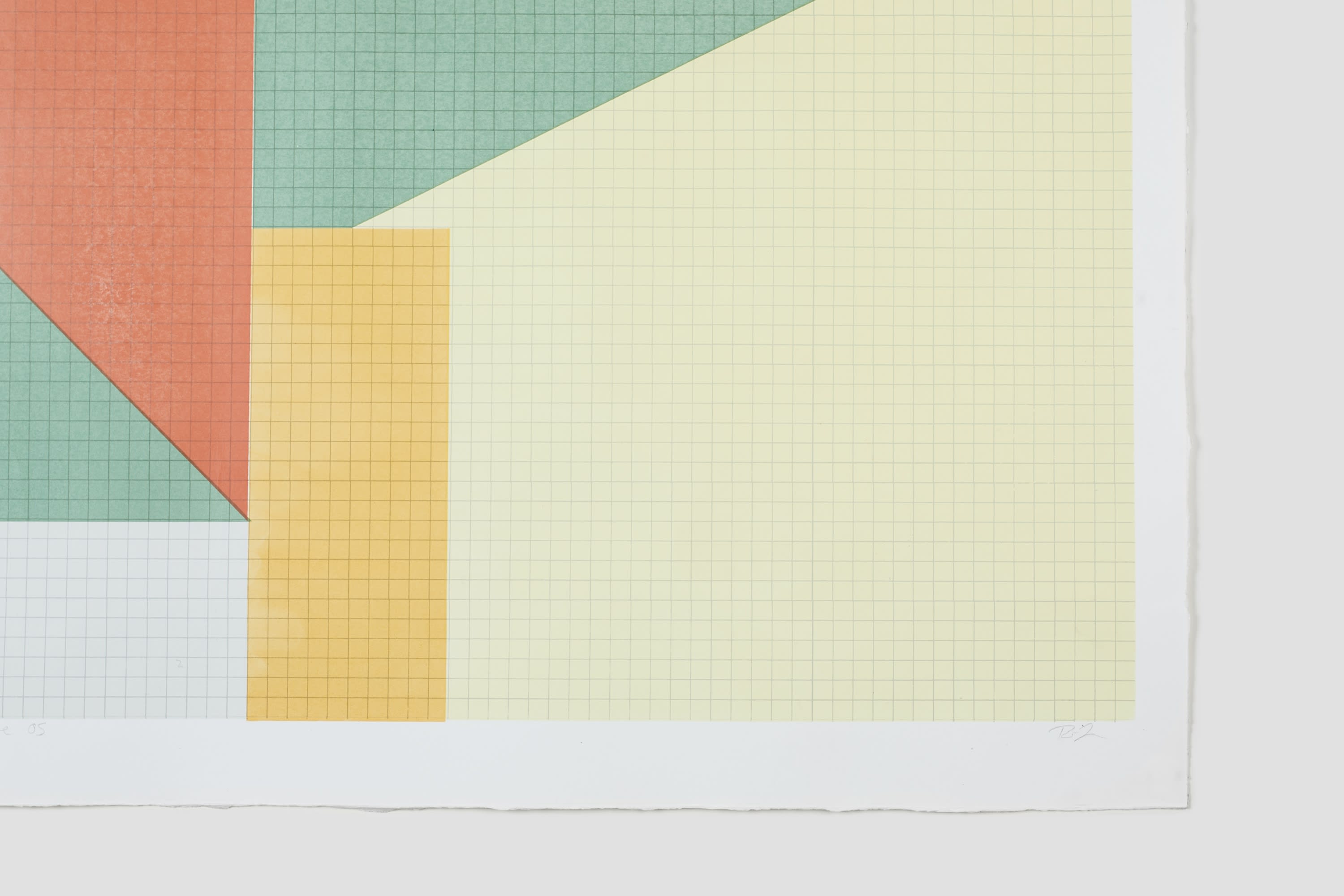 Rhona Jack, Metre 05 (detail), 2017, Color serigraph.
what is your studio practice like?


Slow mornings start with a strong cup of coffee. I try to get into the studio around half past nine, answer emails and do some administrative work before diving in. I enjoy listening to audiobooks and podcasts. So much of my practice is quite repetitive so having something playing in the background keeps me going.
Any chance you will get back into printmaking

?



I really do miss being in a print studio! Hopefully when Covid is over I'll be able to get back into the studio.
What medium would you work in forever?


Woodworking and making wooden sculptures. Everything else I do can get quite repetitive. It can be a bit mind-numbing. Woodworking requires a lot from my brain, lots of math, and nothing is better than when everything fits together. It's the best thing in world.