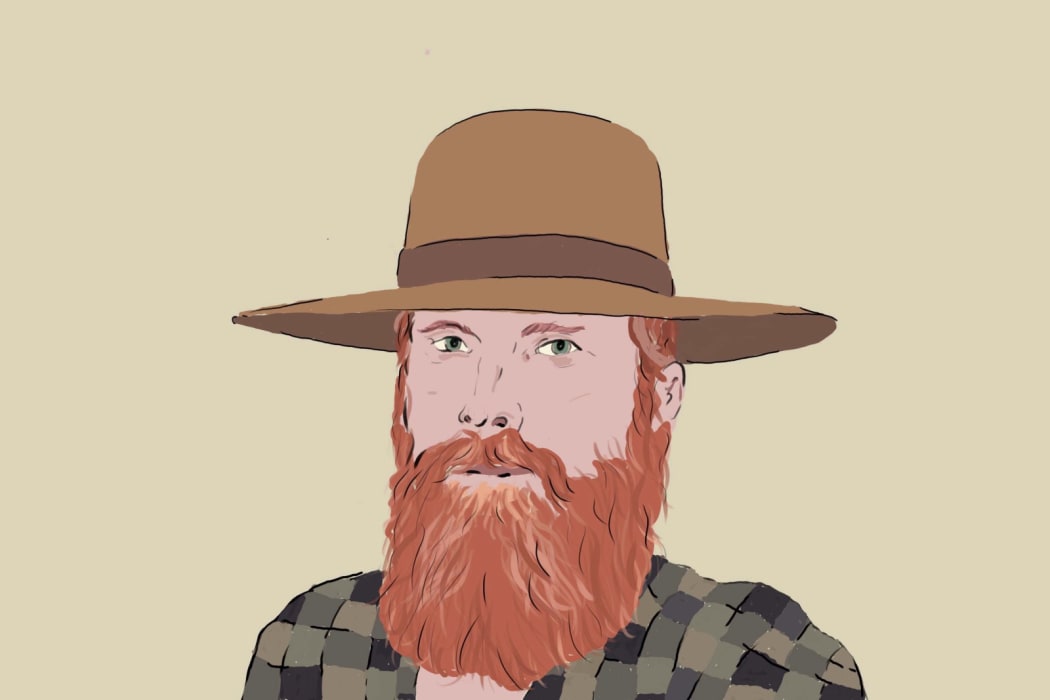 Zane Bennett Exhibitions Coordinator Brad Hart talks litho voodoo, hats and history in this staff interview. Brad has worked at Zane Bennett throughout its 15-year history, and has spearheaded some wildly ambitious installations for our four-year-old sister gallery form & concept. He's also a master printmaker and may possess a time machine.
TELL US ABOUT YOUR BACKGROUND IN PRINTMAKING. WHAT MADE YOU DECIDE TO PURSUE IT?
I signed up for intaglio as an elective when I was working on a BFA in drawing. If you have the slightest compulsive tendencies, printmaking is your sport. I was hooked and finished up with a MFA in printmaking. I love the unique mark making that can be achieved with the various print techniques and the ability to create multiples.
Brad Hart, Learning, four color reduction etching, 6 x 8 in.


You've worked with Sandy Zane since before the inception of ZANE BENNETT CONTEMPORARY ART AND FORM & CONCEPT GALLERY. HOW HAVE YOU SEEN THE ART SCENE IN SANTA FE CHANGE OVER THE YEARS, AND HOW HAVE THE GALLERIES REFLECTED THAT EVOLUTION?
The biggest change I've seen is a much larger embrace of more contemporary, less traditional work. We originally opened on Canyon Road and very few galleries had any nonrepresentational work. Any artist that pitched work to those other galleries that couldn't at least be vaguely confused as a landscape was told to come talk to us. It's great to see much broader acceptance of new media and less traditional art forms now. Zane Bennett has held pretty steadfast to the work we represent and we're known for and sought out for that work. form & concept has filled a niche by embracing underrepresented art forms. It's a great combination of emerging, established, and contemporary masters. Santa Fe will still always ways hold the corner on the howling coyote market though.
WHAT'S YOUR FAVORITE PRINTMAKING TECHNIQUE?
Etching was my gateway drug and still my favorite. Litho is voodoo but I do love it too. It's just harder to get access to those facilities. When I first moved here I discovered Eli Levin's Santa Fe Etching Club. At that time it was a small fee for a lifetime membership and one print from each edition went to the benefactor that provided all the supplies. It has changed some but you can still go to Argos [Studio Gallery] and have access to everything you need to make an etching.
WHAT IS YOUR STANCE ON A BLENDROLL, LOVE THEM OR HATE THEM?

If you're gonna roll out ink, might as well make it a blend.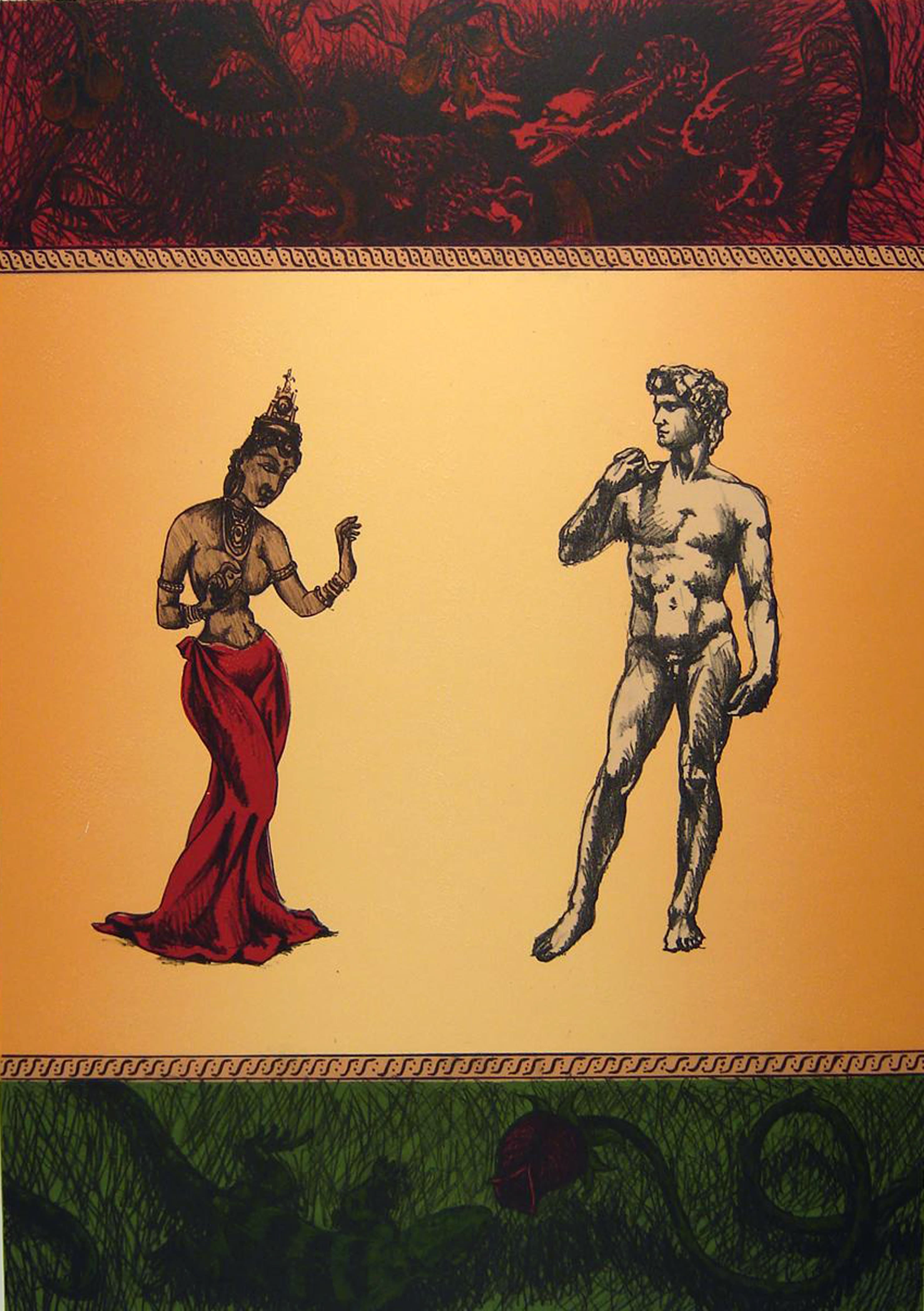 Brad Hart, Encounter, lithograph (with blendroll), 27 x 19 in.
WHAT PIECE WERE YOU MOST EXCITED TO RECEIVE IN THE COLLECTION?
My all-time favorite so far was Causeway by Helen Frankenthaler. It was a spit-bite aquatint etching that captured the style of her paintings and was a perfect example of the print technique. I don't remember who printed it but it was a great example of what can be accomplished when artist and print shop collaborate.

WHAT EXHIBITION WAS THE MOST FUN TO INSTALL?
The Flying Blue Buffalo [installation by Armond Lara]. The perpetual squawking lift was annoying but the entire staff was involved in making the buffalo fly. It was a visually stunning display despite the headaches and great to be able to make Armond's vision a reality.

YOU'RE AN AVID HISTORICAL WAR AND TIMES REENACTOR, A COLLECTOR OF KNIVES, AND HAVE THE BEST HAT COLLECTION WE'VE EVER SEEN. HOW DID THAT START? DID YOU HAVE PARTICULAR INFLUENCES GROWING UP IN ARIZONA?
Growing up in Arizona certainly had an influence on my fascination with hats and Western history. I volunteer for living history events at Bent's Old Fort in Colorado whenever I can. It is a fur trade-era fort and was the last stop in the U.S. on the Santa Fe trail in the 1830's and 40's. It's a fun and expensive hobby that has inspired a renewed obsession with hats. I grew up a pint sized "cowboy." Always had a hat and trusty cap gun . My first cowboy boots were a size 2. I strayed for a while in college but came back around when I moved to New Mexico. Very handy with the overly bright sun here.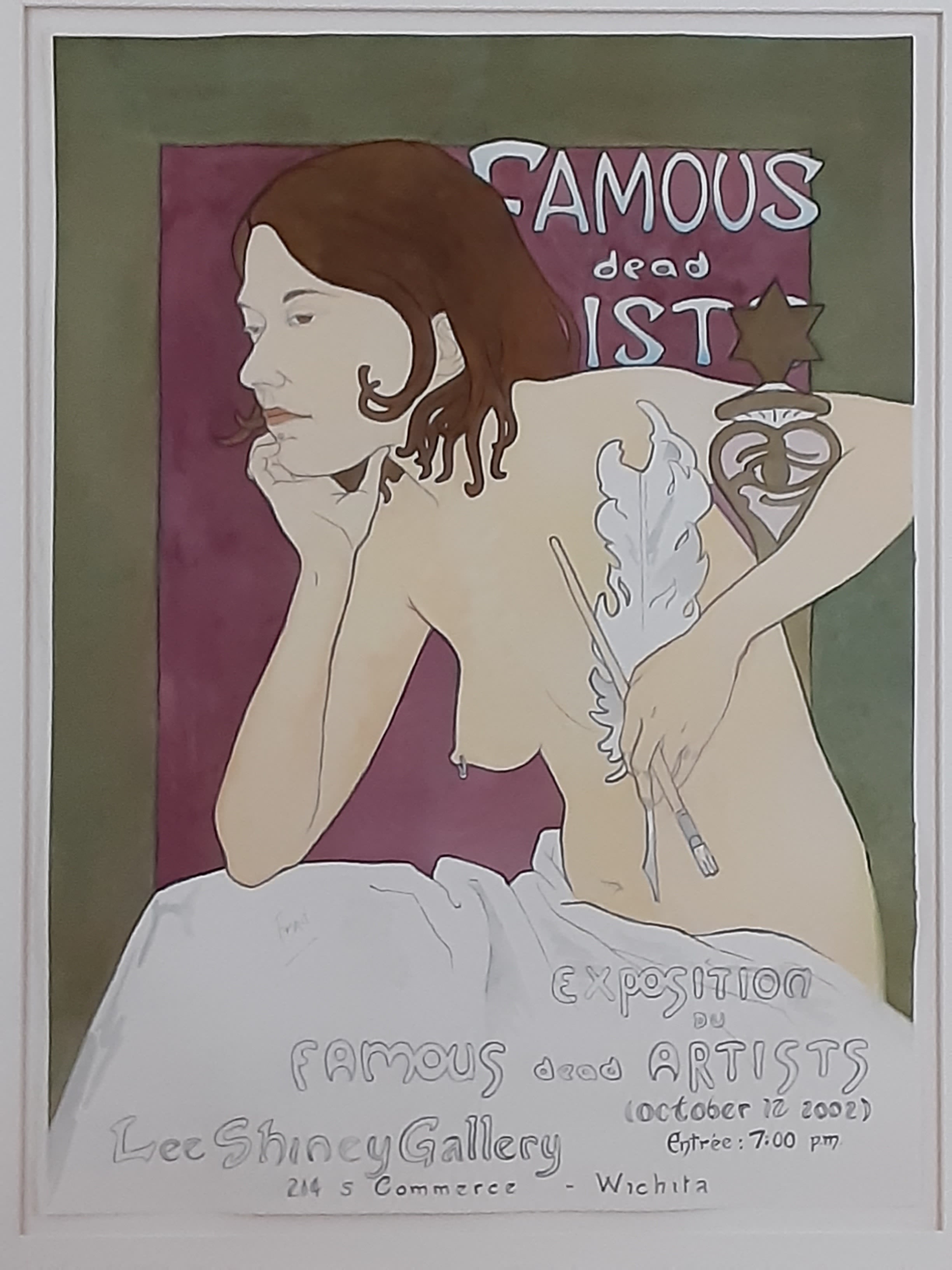 Brad Hart, Homage to Mucha, Watercolor, 30 x 22 in.

TELL US MORE ABOUT THE ARTIST COLLECTIVE YOU HELPED START.
Just after I finished grad school a couple friends were invited to hang some art in a retro furniture store. They didn't have enough work on hand to fill the walls and invited a couple more of us to bring some work. The Famous Dead Artists were born. We started out with weekend shows in hair salons, hot rod shops and other random empty spaces in downtown Wichita, Kansas. We lit everything with clamp lamps and too many extension cords for the fire marshal's taste. Eventually we had our own small space above two bars where we also kept the walls covered. Several other small galleries opened, we started a Final Friday gallery crawl, ten years went by. It was an amazing experience with a group that became family.


YOU ARE AN AMAZING ARTIST. HAVE YOU found THE TIME TO make art DURING THIS lock down?
I've been preoccupied with making supplies for the next living history adventure. I definitely need to get back using the press in my living room for something other than a laundry folding table/hat storage.

WOULD YOU RATHER HAVE YOUR

MULLET

BACK OR SHAVE YOUR EPIC BEARD?
I've saved a fortune over the years on haircuts and razors. That's how I afford the hats.
IF YOU COULD MAKE PRINTS FOR ANY ARTIST IN THE WORlD, DEAD OR ALIVE WHO WOULD IT BE?
I'd have to say Alphonse Mucha. I've always loved his drawing style and the amazing intricate designs of Art Nouveau. He made a ton of lithographs. It would have been cool to work on one.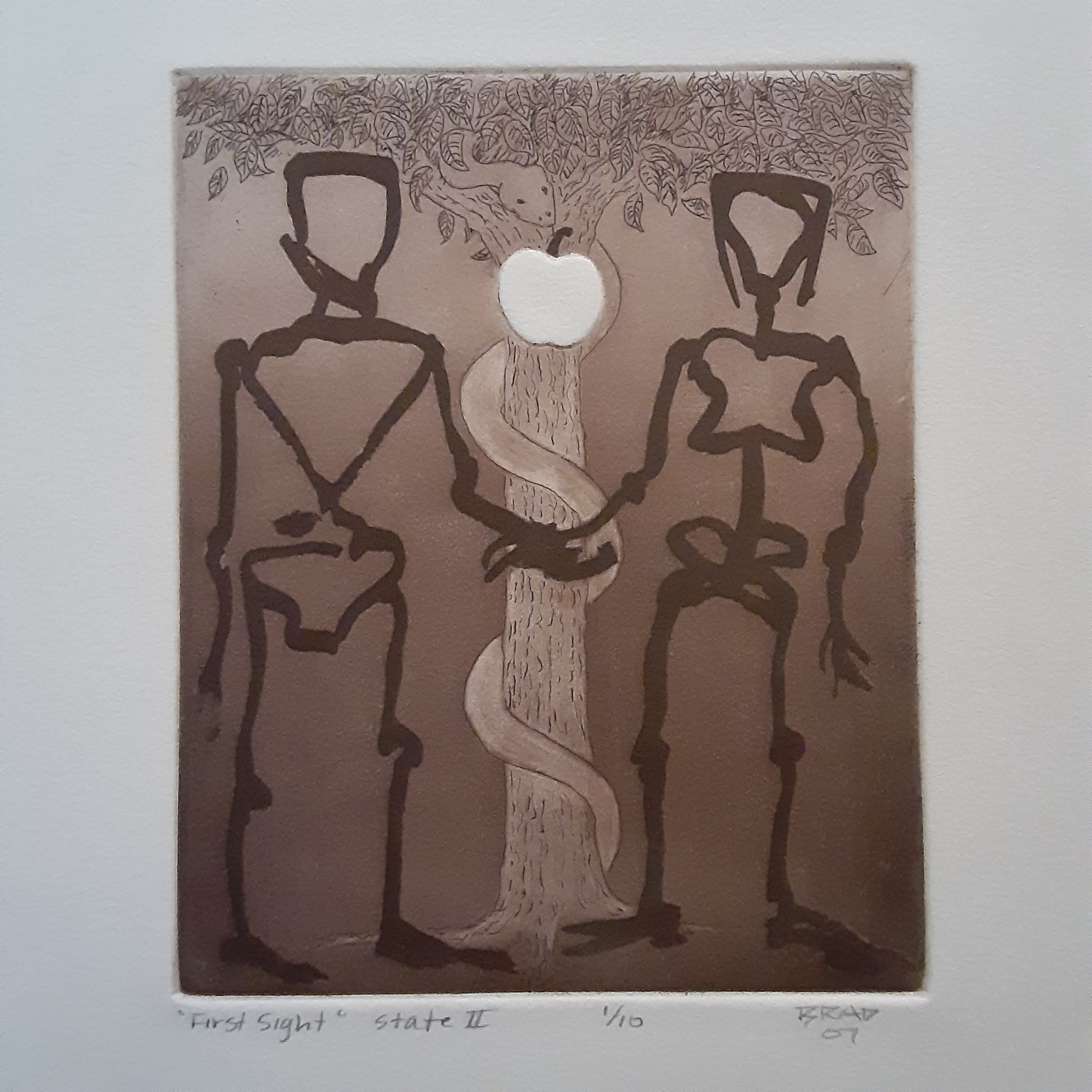 Brad Hart, First Sight , sugar lift, creep bite, aquatint, pierced plate, 4 3/4 x 3 3/4 in.